Showing items tagged nonfiction. Show All
A lot's been happening behind the scenes at Bartleby!
Hello everyone! I hope everyone's semesters have been going smoothly. We've been doing a lot of work over these past few moments and want to share some updates with all of you: The 2021...
Posted: March 14, 2022, 7:07 PM
Do you want to submit to the Bartleby? Read through this!
Hello everyone! Do you want to submit to the 2022 Edition of Bartleby? If so, submissions are due in just a little under two weeks, so here are Bartleby's submission guidelines so you can know...
Posted: November 18, 2021, 9:24 AM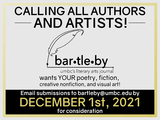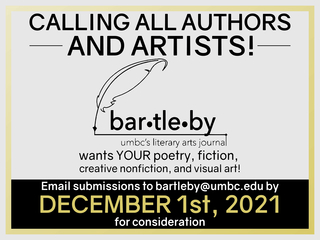 Join our virtual GBM this Monday & don't forget submissions!
Hello Bartlebees! Before our regular announcement, now that it is November 1st, we have one month before submissions for the 2022 edition of Bartleby closes! Submit your poetry, fiction,...
Posted: November 1, 2021, 5:26 AM